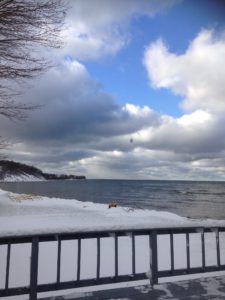 I love Christmas!
What I love about living on the lake-at Christmas- is that it always feels like you are home. Some people take retreats to stay in a place like this, it does not feel like you are home, some people love that part!
Even on a fierce day, with winds howling, the lake view is always there, the fire warms the room- this lake is too big to freeze.
I love the Christmas tree! One story tells (modern story) was developed in medieval Livonia (present day Estonia and Latvia), and early modern Germany brought decorated trees into their homes, and with the Baltic countries during the second half of the 19th century, at first among the upper classes. Early trees were first decorated with "roses made of colored paper, apples, wafers, tinsel, and sweetmeats." In the 18th century it began to be illuminated by candles  which were ultimately replaced by lights. Stories are widespread and vary from culture to culture.
I love to decorate a tree and enjoy the feeling of home it renders when it's all aglow, and all other lights are off. That peaceful setting speaks again, of home to me.  Wherever your heart may be , you can call it home, wherever you can feel the sense of comfort and peace, you can surely call that home. I believe that the peace that fills my heart at Christmastime and always, is the Prince of Peace. No other person, place or thing can put peace in my heart but Jesus; the babe who was born so that I may have this peace and assurance of my life being an eternal one. As a counselor, what messes so many people up at this wonderful time of year, is pain. Pain of the past , pain of lost loved ones, the pain of rejection of others, sometimes just pain that never was healed from childhood . But the place where all those things can not matter anymore to me, is the place of peace in my heart that brings me above all other things and gives me a warm, fuzzy feeling of home. May you find Jesus this holiday season, He came to this earth to bring peace, and He died so that you might live! Merry Christmas everyone!